Like many of you, I've had to make some changes to adapt to this new normal. I'm very excited about to tell you about two new creative services I'm offering.
Over the past year, I've been working to develop my style as a fine artist. About a year ago, I was feeling the itch to paint. I used to paint a little when I was younger but stopped when the kids came along. That was a long time ago! To get back into it, I took a couple of classes. I've been painting in oils, acrylics, and also digitally. And now, with the pandemic slowing things down, it was a good time to bring my painting skills to the design business.
Introducing "Painted Paws, by D Banzon Design"
My love for animals, and some nudging from a friend, led me to venture into painting pet portraits. These paintings are created digitally from photos on an iPad with an Apple Pencil. The paintings are then printed on high quality, archival fine art papers using the giclée process and are suitable for framing. I enjoy the process of capturing each pet's personality and producing artwork that is meaningful to the owner. Custom pet portraits are wonderful for celebrating these beloved members of the family and make great gifts! Learn more about pricing and ordering here: www.dbanzondesign.com/paintedpaws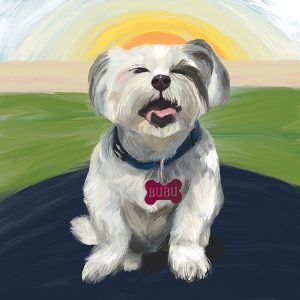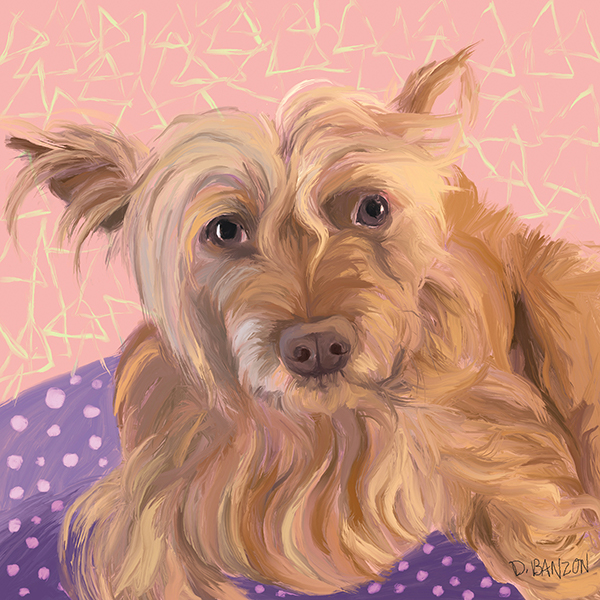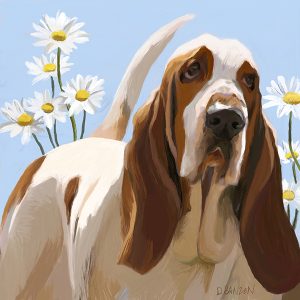 You can see more pet portraits on instagram @dbanzonpaintedpaws. Please share with all of your friends!
If you're interested in my fine art journey, request to follow my private account on instagram @dbanzonart
Now Offering Custom Painted Murals
A cherished friend connection led me to an opportunity to paint a mural in a new pet gift shop in the vacation town of Bethany Beach, Delaware. The mural is the perfect enhancement to a wall facing the entrance of the store, setting a playful tone for the aptly named, Sandy Pawz.
Painting a mural in a retail environment nicely combines my love of painting with my graphic design skills. I had so much fun doing this project and I can't wait to do another. I'd appreciate it if you would help me spread the word about this new service offering. Learn more about commissioning a mural here.
And if you find yourself in Bethany Beach, stop into Sandy Pawz at 8 North Pennsylvania Ave, and say hello to the pugs named Maddie and Rosie. The shop is scheduled to open by the end of this month, October, 2020.